Through The Forest WEB
Through The Forest is an Immersive Environment 2D pixelart Game in which I experiment by mixing free assets from different artists around the world to create an enjoyable simple game experience.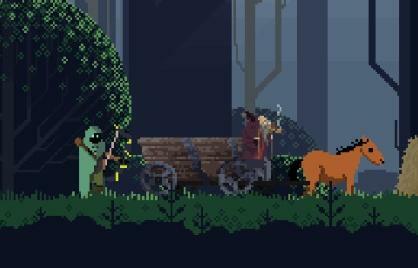 The whole game was developed in 33 hours. I recorded all the development of the game and you can see it in this playlist on youtube.
Through The Forest Full Dev Playlist
The web version is less fluid than the windows version so I am raising funds to buy the game maker studio license to be able to export it to windows. To those who can collaborate with some dollars I leave my Paypall.
This is the first version of the game. in the future I will continue to update and add mechanics that make it more interesting and complex. In this version I focus more than anything on the environment and the theme of the game.
In case of doubts in this link you can see a video of the gameplay of the game.

Game Design & Programming By jameschappfillmore
MY GAMES!
Itch.io: jameschappfillmore.itch.io/
Newgrounds : https://jameschapp.newgrounds.com/
Gamejolt : https://gamejolt.com/@JamesChappFillmore/
Youtube: www.youtube.com/channel/UCcgr3UM5PJtxBnE99TOq5PA
Instagram: www.instagram.com/4lg1z/
Facebook: www.facebook.com/profile.php?id=100011402026398
Twitter: twitter.com/ChappJames
Reddit: www.reddit.com/user/James_Chapp_Fillmore
Linkedin: https://www.linkedin.com/in/james-chapp-fillmore-250a5010b/
Support Me here!
PaypallMe: https://www.paypal.com/paypalme/jameschappfillmore?locale.x=es_XC
Patreon: www.patreon.com/jameschappfillmore
Ko-fi: ko-fi.com/jameschappfillmore
Buymeacoffe: www.buymeacoffee.com/jameschapp

BackGrounds By edermunizz
https://edermunizz.itch.io/free-pixel-art-forest

Archer Hero Sprite By darkpixel-kronovi
https://darkpixel-kronovi.itch.io/archer-hero
Medieval Props Sprites By oco
https://oco.itch.io/medieval-fantasy-props-pack
Warlock sprite By jose-moyano
https://jose-moyano.itch.io/blind-warlock-pixel-art

Horse Sprite By alizard
https://opengameart.org/content/pixel-horse
Fossil Sprite By kvsr
https://kvsr.itch.io/fossil

Crows Sprite By meitdev
https://meitdev.itch.io/crow

Deer Sprites By calciumtrice
https://opengameart.org/content/deer

Pidgeon Sprites By pop-shop-packs
https://pop-shop-packs.itch.io/pigeons-2d-pixel-asset-pack

Chicken Sprites By shepardskin
https://opengameart.org/content/chicken-sprites

Dog Sprites By keygenius
https://keygenius.itch.io/sitting-dog-animation

Wooden Botons By nedokontent
https://nedokontent.itch.io/ui-wooden-controls

Skeleton_sword By sanctumpixel
https://sanctumpixel.itch.io/sword-skeleton-pixel-art-character

Skeleton By luizmelo
https://luizmelo.itch.io/monsters-creatures-fantasy

Dark Forest assets By
https://szadiart.itch.io/pixel-dark-forest
Pixel Castle By
https://szadiart.itch.io/pixle-castle-2d
Swamp 2d Tileset By
https://free-game-assets.itch.io/free-swamp-2d-tileset-pixel-art

Torch Sprites By
https://asymmetric.itch.io/mideval-2d-16x16-torch-sprite-pack-with-animations

Medieval Houses By
https://free-game-assets.itch.io/free-medieval-houses-3d-low-poly-models

Fantasy Pixel Art Assets by
https://teamgriffin.itch.io/molly-asset-pack
Villagers animals and props By
https://free-game-assets.itch.io/free-fishing-pixel-art-pack
https://free-game-assets.itch.io/villagers-sprite-sheets-free-pixel-art-pack
https://free-game-assets.itch.io/free-3-character-sprite-pixel-art
https://free-game-assets.itch.io/free-39-portraits-pixel-art-game-assets
https://free-game-assets.itch.io/free-enemy-sprite-sheets-pixel-art
Fox By
https://merly23.itch.io/piecewise-bundle
Bunny by
https://hiroredbird.itch.io/bunny-sprite-sheet
Squirrel By
https://elthen.itch.io/2d-pixel-art-squirrel-sprites
Animals By
https://hello-tazzina.itch.io/animals
Hell_hound sporite By
https://ansimuz.itch.io/hell-hound-sprite-animation
Music by Kevin MacLeod
Song Name : Healing
Nature Sounds Forest By BurghRecords


Comments
Log in with itch.io to leave a comment.
Great job!!! Very atmospheric.
The idea of this project was not to develop too much the gameplay, the mechanics or the story.
I put a lot of emphasis on creating an Immersive Environment and working on the integration and gradual transition of two different backgrounds
https://edermunizz.itch.io/free-pixel-art-forest
AND


https://edermunizz.itch.io/free-pixel-art-hill
added to the mixture of many small details such as paloms, squirrels, and different effects that make the environment much more enveloping.

thanks for the support
Yo this game is buggy as frik. Just kidding, but did you even play your game? I don't know what happened, but the game just restarts after a bit of playing (a bit past the guy that says hello in the forest), and then proceeds to restart anytime I leave town.
Another thing I don't like is how the camera follows the mouse. Really gives one motion sickness or something. There is no instruction so I really don't know what to do, and You can't differentiate what you can shoot from what you can't.
Shooting arrows is pretty cool, but gets boring real quickly as, again, I don't know what to do.
Overall, what is this?
Hi.
first of all thanks for the feedback. is appreciated =)
I was just updating the version of the game out there that's why it gave you an error.
At the moment the backgrounds and assets are mounted .. this is a test to get feedback from the users .. I recommend watching the video before playing it.

Until now I gave priority to the environment, the music and the animations .. now with the feedback from the users I am going to improve the mechanics of the game, and polish the mechanics better ..
The idea of the game is that it is a single level where you have to help the old man to cross the forest.
simple and short.
the idea of the game is a bit also to promote the creators of the assets.
I'm going to work a couple more hours on development and I'm going to leave it as it is. I'm still going to implement as much feedback as I can gather.
I preferred that you see the video ... but here on itch io. They asked me to put the link of the game. so good .. it was to be expected that it crashed a bit .. not finished yet.
Greetings and thank you very much
The game restarts because you die when the first enemy "the snake bites you" is the first enemy that appears at the entrance of the first town. It also resets if the skeletons touch your character or the carriage.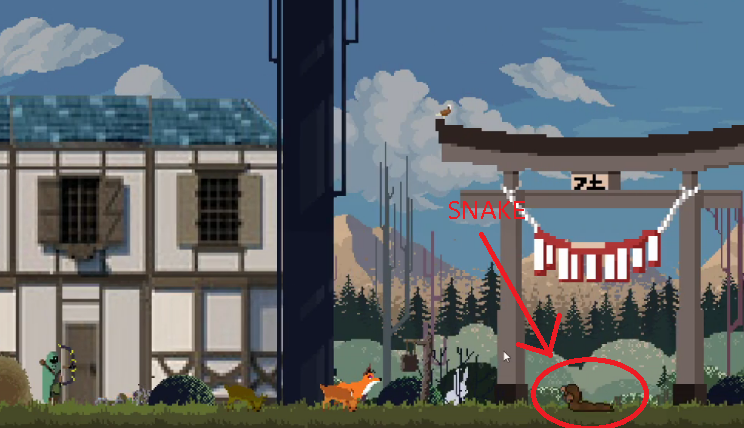 You really can't tell the animals from the environment then.
it's because of the natural camouflage ....
Sorry. remember this is a test. the game is not finish yet.
the suggestions you mention are very helpful.
Thanks for the feedback =)